The Digital-Analogue Blend: Innovation for Your Global Safety Programme Delivery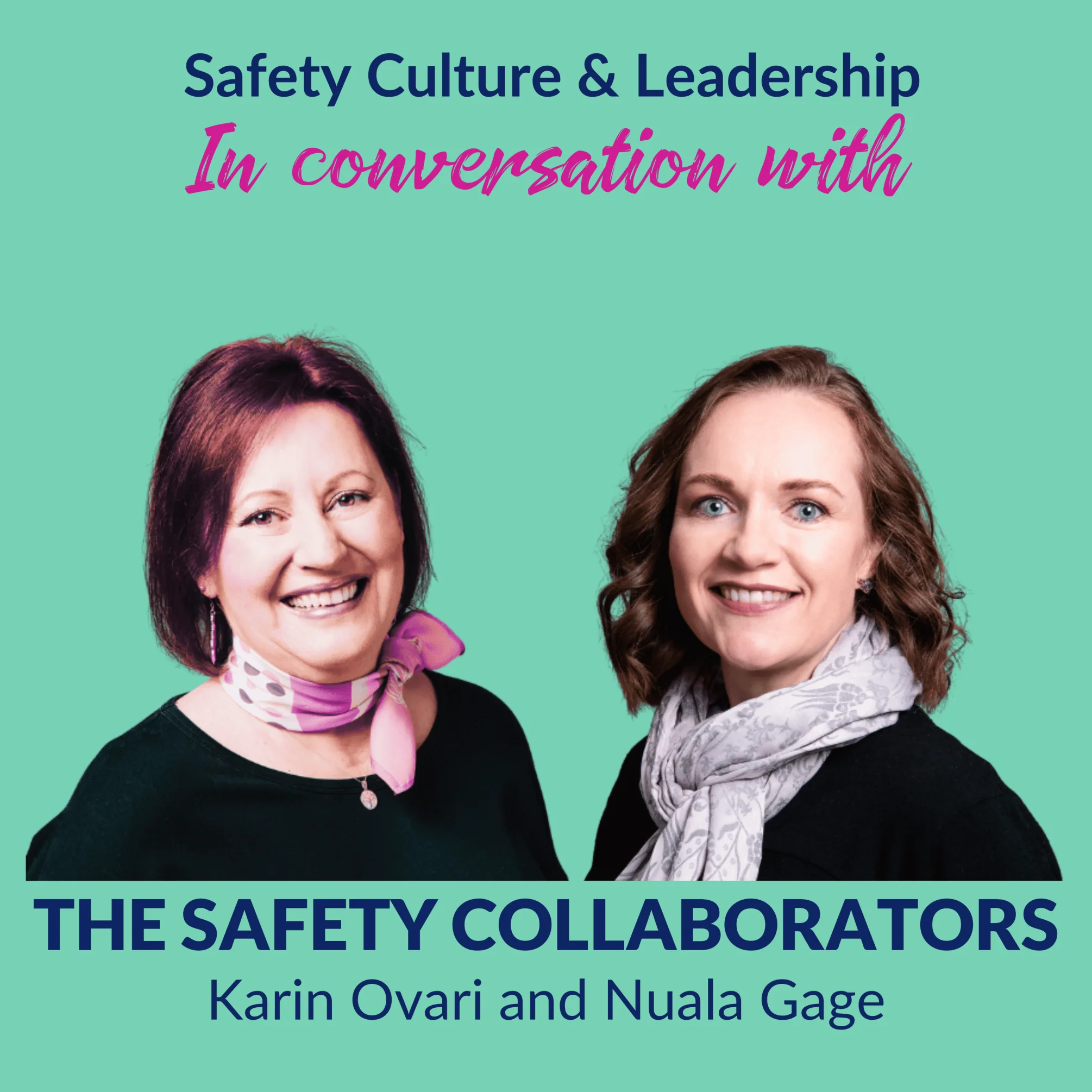 Exploring the Evolution of Global Safety Leadership Programme Delivery Methods
It's 2023. We need to deliver a programme that does not use technology.
It's 2023. We have to design a fully digitalised facilitated programme using AI.
Which one do you need? Or is it something in between?
The Evolution of Global Safety Programme Delivery
[Listen at approximately 00:12]
We [Safety Collaborations] specialise in creating and delivering diverse programmes on safety, leadership, and bridging cultures. Our programmes are tailored to meet your specific needs, accommodating various shapes, sizes, and customisation requirements.
What does that look like? Well, our journey spans over 20 years of experience.
Back in the day, Karin managed and developed a training business in the IT sector, running programmes for software languages. Can you believe they used massive A4 folders filled with see-through slides for overhead projectors? These programmes were monumental, and the heavy folders had to be shipped everywhere.
Over the years, we have facilitated programmes in unique settings and found ourselves in diverse locations such as Chad, Mozambique, under a tree, or on a vessel.
We've embraced the flexibility of delivering programmes in unconventional environments, adapting to different circumstances to ensure effective training experiences.
Fast forward to today, where we have witnessed a remarkable transformation in programme delivery.
While the virtual world gained significant traction since 2020, it's important to note that e-learning and other forms of remote training have been steadily growing for quite some time.
In addition to our years of experience in in-person on-location (worksites and hotels), we now include digitally facilitated training experiences, leveraging technological advancements like AI and exploring innovative methods to engage participants remotely.
Throughout our journey, we have gained invaluable insights and expertise, enabling us to provide impactful training programmes regardless of the delivery format.
[Listen at approximately 02:47]
Our journey to Malawi was an unforgettable adventure filled with incredible moments.
It all began when Karin planned a trip to this beautiful country, and her enthusiasm was so infectious that I [Nuala] couldn't resist joining in. We were both intrigued and inspired by responsible travel and tourism, which led us to discover a wonderful organisation called Orbis Expeditions.
The purpose of our trip was to participate in a women's mentoring programme, which aimed to empower and support local women in their personal and professional growth.
It was a heartwarming experience to connect with a group of like-minded individuals, primarily from the UK, who shared a passion for making a positive impact through meaningful travel. Together, we embarked on a journey that combined the joys of tourism with the fulfilment of giving back.
One aspect of our involvement was mentoring other women and sharing our knowledge and experiences to empower them in their entrepreneurial endeavours. Witnessing their growth and seeing the seeds of inspiration take root was incredibly rewarding. Additionally, we had the opportunity to engage with the local community in various ways.
We facilitated workshops for a group of women who relied on fishing as their livelihood, discussing the challenges they faced and brainstorming solutions together. It was an eye-opening experience that shed light on the resilience and determination of these women.
We brought supplies like rolls of flip chart paper, crayons, and marker pens to facilitate our sessions. These simple tools became vehicles for creativity, expression, and collaboration. We embraced the moments of spontaneity, allowing for on-the-spot activities and delightful interactions.
We had the privilege of working closely with the students of Rainbow School of Hope. We even had the chance to write on chalkboards, bringing back nostalgic memories and adding a charming touch to our sessions.
We ran experiential outdoor activities as well as discussions and STEM experiences.
Our experiences in Malawi highlighted the diverse approaches to programme delivery.
Each location presented unique opportunities and challenges, and adapting to the available resources and circumstances was essential.
Even in places where resources may be limited, like Malawi, we discovered that meaningful programmes can still be delivered effectively with a bit of creativity and ingenuity.
It reinforced our belief that programmes should be tailored to the specific context, working within the resources and capacity of each community.
Our journey to Malawi left an indelible mark on us, reminding us of the power of travel, connection, and shared experiences.
It exemplified the endless possibilities for programme delivery and the importance of embracing the available resources to create impactful and memorable moments.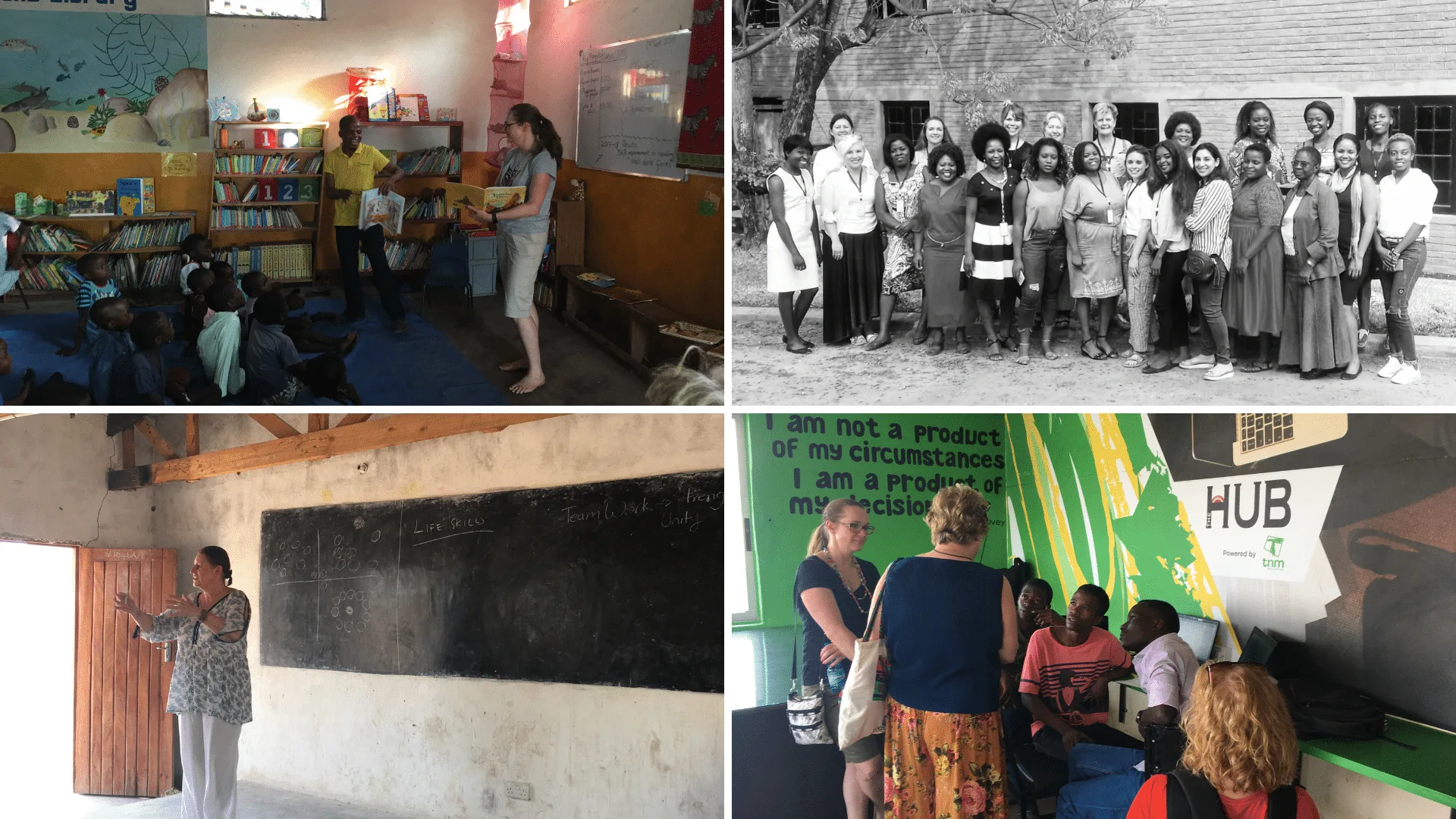 Programme Delivery - Creating Sustainable Learning
[Listen at approximately 05:17]
When it comes to programme delivery, there is flexibility to choose what suits individual needs and preferences. Whether individuals have access to electricity and prefer presentations or find themselves in rural communities with limited electricity, the focus remains on creating sustainable learning experiences that make a lasting impact.
The goal is to add as much value as possible to the programme, whether delivered face-to-face in a conference centre, through digital facilitation, or without technology or electricity.
Nuala:
This reminds me of a powerful story that resonates with the heart of our approach.
It took place at a stunning conference centre in an African country, where a presenter was, unfortunately, delivering a monotonous "death by PowerPoint" session. The audience, including the presenter, started losing interest, and the atmosphere became quite dull. Then, as fate would have it, the lights went out due to a power cut.
In that moment of uncertainty, a brilliant colleague, who was also my mentor, stepped up with a flip chart. She swiftly initiated group discussions and posed thought-provoking questions about the content shared earlier. The outcome was extraordinary.
At the end of the session, when participants were asked to provide feedback, many expressed:
We learned the most when the lights went out.
This poignant realisation underscored the significance of creating continuous learning opportunities that inspire "lightbulb moments" throughout the programme, regardless of the delivery format.
This story prompts consideration of how impactful learning experiences can consistently be delivered, whether in person, online, or in different settings. The focus is on enabling individuals to have profound insights and connections throughout the programme without worrying about external circumstances like power cuts.
Methods and materials are tailored to maximise engagement and value, whether in a traditional conference centre, a remote rural community, or a virtual environment.
Flexibility in Programme Delivery
[Listen at approximately 07:26]
When it comes to delivering programmes, we take a lot of things into consideration. We think about our audience, what we want to achieve, how flexible we need to be, and what resources we have to work with. We've had some pretty interesting experiences along the way.
In Nigeria, we turned a local pub into a training room and when done we turned it back into a bar. It was a great way to create a unique and engaging atmosphere. And in Angola, we had to get creative and use a pool table as our workspace! Who would've thought, right?
The location doesn't make or break the learning experience. It's all about how we use what we have to create an impact. Whether on the oil rig helideck or in a small space between decks, we ensure our programme fits the setting and delivers a meaningful learning experience.
Looking ahead this year [2023], we're excited about the programmes we're working on. We're developing a programme that can be delivered without relying on electricity or traditional facilities. At the other end of the scale, we are developing a digitally facilitated safety leadership for global delivery.
Our ability to be flexible and deliver programmes differently makes us stand out. We're passionate about creating learning experiences that make a real impact. We use the resources and technologies to tailor each programme to our client's specific needs. It's all about empowering participants to thrive and succeed, no matter the circumstances.
Moving into Digital Learning
[Listen at approximately 12:20]
The impact of moving into the digital realm is something you only genuinely understand once you've experienced it.
Nuala:
I remember when Karin first mentioned it to me, and I thought, "Isn't it similar to what we were doing with e-learning programs or breakout rooms on Zoom?"
But let me tell you; it's completely different.
She invited me to a virtual conference, the Global Change Days and my whole perspective shifted. The level of engagement, the conversations, and the use of AI with summaries, word clouds, and sentiment analysis were mind-blowing.
It used to take me hours in workshops to achieve what technology now does effortlessly.
As facilitators, we no longer lose the essence of conversations because participants can express themselves in their own words and have their contributions preserved. It's a true co-creation experience that goes beyond just involving participants; it allows them to revisit their work and be re-inspired even weeks after the programme.
The digital platform is a game-changer that has revolutionised how we facilitate and interact with participants, bringing a new level of efficiency and impact to our programmes.
Advantages of Digital Facilitation Platforms
[Listen at approximately 14:37]
One of the advantages of using digital facilitation platforms is the ability to capture data and ensure that all voices are heard.
In traditional in-person settings, it's often the loudest person who dominates the conversation. However, in a digital realm, even while one person is speaking, others can contribute through writing, creating a more balanced and inclusive discussion. Participants appreciate the opportunity to express themselves in their way while still being part of a collective conversation.
We have experienced the limitations of only using platforms like Zoom chats, where all the conversation is confined to one section and can easily get lost or become difficult to navigate.
Digital facilitation platforms offer a solution by keeping conversations organised and easily accessible. Participants can revisit previous discussions as often as needed and retain valuable insights or thoughts that may have been shared.
While we may not physically be in the break-out Zoom rooms with participants as they write, we can still contribute and spark their thinking by engaging with their comments and asking further questions through the chat spaces.
As facilitators, we can continue the conversation and encourage deeper exploration, even when not physically present. This interactive approach helps maintain momentum and engagement throughout the programme.
Digital Facilitation Tools
[Listen at approximately 17:29]
Let's talk about the tools we use and how they have revolutionised our work.
One of the tools we rely on is Zoom, a familiar platform for live video conversations and meetings. It allows us to connect with others face-to-face, no matter where we are. Another popular tool we utilise is Microsoft Teams, which offers similar seamless communication and collaboration capabilities.
But there's another tool that captured our attention—Howspace.
This powerful digital facilitation platform has a rich history of two decades and has undergone a significant transformation. It was initially designed for large-scale group discussions and data capture in physical settings. However, it has become a comprehensive platform supporting collaborative communication and digital engagement.
With Howspace, we can engage participants even before the live event. We can set up pre-work activities [preludes] such as polls, questions, and reading materials, allowing participants to contribute their thoughts and information. During the live event, we combine the power of video calls on Zoom or Teams with the interactive features of Howspace.
This combination enables engaging conversations, provides thinking time for participants, and leverages artificial intelligence for summarising information, generating word clouds, conducting polls, chats, exams, and even self-paced learning.
Howspace truly enhances the learning experience and facilitates collaboration in previously unimaginable ways.
Determining The Best Option
[Listen at approximately 22:06]
To determine which option would be best for you, we would ask the following questions and more:
What are the specific goals and objectives of the program?
What are the resources available for the programme implementation?
Is there a preference for offline interactions and personal connections, or is digital convenience and efficiency a priority?
What are the target audience and their technological literacy?
Is there a need for scalability and advanced features technology can provide?
Are there any constraints or limitations regarding technology access or usage?
What is the desired level of personalisation and automation in the programme?
How important are data analysis and insights in achieving the programme goals?
What is the budget for the programme and the ongoing maintenance costs?
Are any specific industry or sector requirements influencing the choice?
Where are your people located, and what are their capacities and needs?
In Summary: Technology, No Technology, Hybrid
[Listen at approximately 27:11]
Programme without technology:
Promotes offline interactions and reduces dependency on electronic devices.
Fosters more personal connections and face-to-face interactions.
Suitable for scenarios with limited or no access to technology.
Examples: team-building exercises, workshops, outdoor activities, and interactive group discussions.
Fully digital programme using AI:
Utilises AI to enhance various aspects of the programme.
Enables data analysis, personalisation, and automation.
Provides advanced features and scalability.
Suitable for scenarios with readily available technology.
Retains all participants' thoughts and ideas
Examples: personalised learning platforms, global/across-site participant inclusion, AI-based decision-making tools, community building, immersion
Hybrid approach:
Combines elements of both options for a balanced approach.
Incorporates technology where it adds value.
Maintains offline activities and human interactions.
Maximises benefits from both offline and digital components.
Examples: digital platforms for communication and collaboration, in-person meetings or events to encourage face-to-face interactions.
Ultimately, the choice depends on your specific needs, available resources, and the objectives you want to achieve with your development programme.
We love designing and delivering meaningful programmes from culture change under a tree, on a vessel, in a conference room, or entirely online.
What is your need? Let's have a conversation.
In the book Changing Conversations for a Changing World-Volume 2, Karin describes the pivot from when a global safety leadership programme went from in-person to in-person-virtual and what that journey looked like.
Connect
Case Studies
Books
Blogs
Digital Facilitation
Our purpose in sharing this podcast is to have a chinwag (conversation) to help people change how they think and behave about safety. 
We do this by engaging in dialogue and testing the levels of trust and psychological safety, which are core to organisational culture. Making safety part of your DNA so that your people speak up, show up, do right, and become safer every day for yourself, your team, and your business.
We will explore topics related to organisational and safety culture, leadership, the language of risk, emotional literacy, psychological safety, conversational agility, intercultural intelligence, and whatever else pops up during our conversations—sharing our experiences and learnings. 
We intend to share nuggets of wisdom that will challenge your perspectives, potentially solve a nagging problem, share actions you can implement, and give you at least one aha moment.
And, if you enjoyed the show and gained value, please share with just one other person to help spread the word.