Event Networking – The Safety Expo 2023 at P&J Live, Aberdeen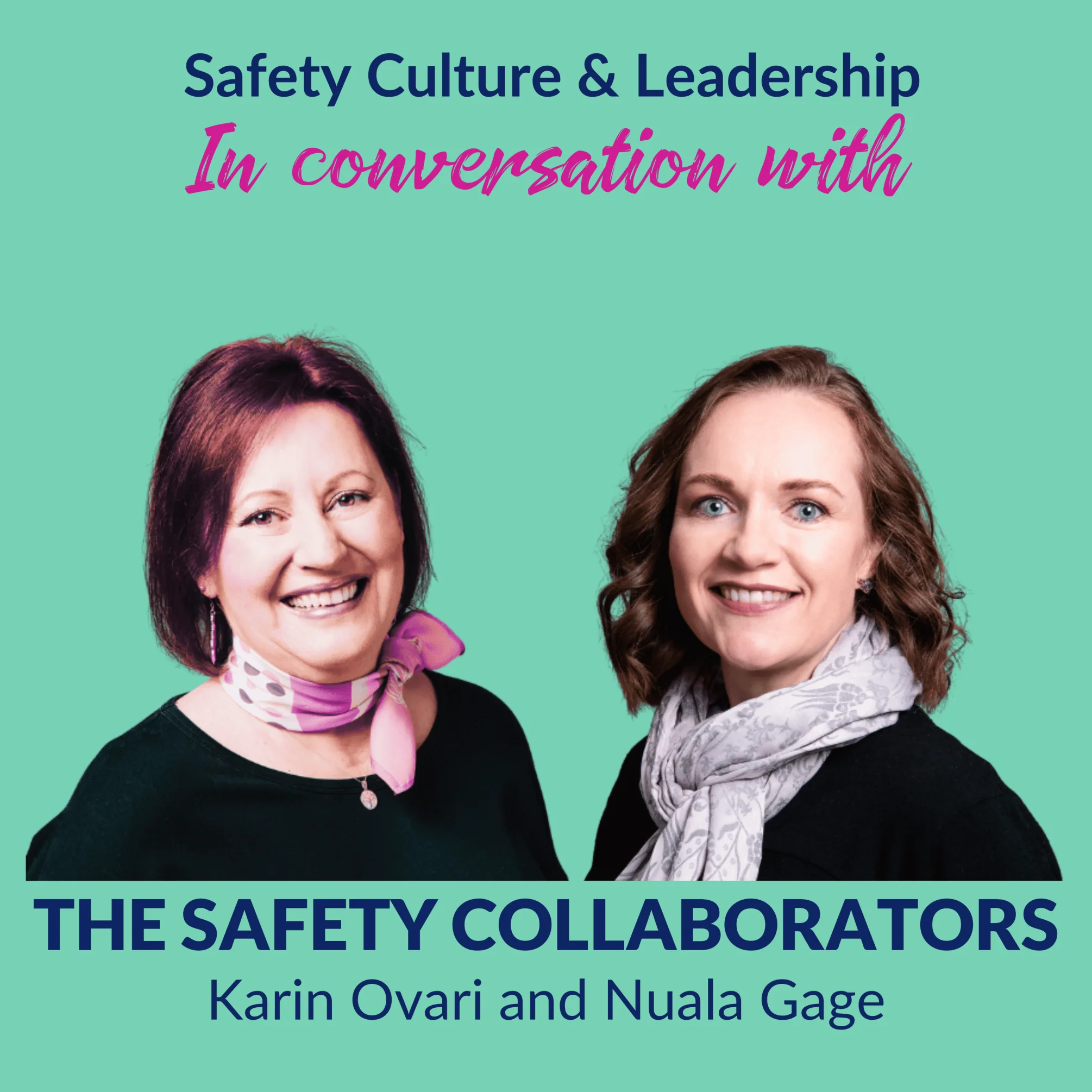 Networking at The Safety Expo
[Listen at approximately 00:12]
Do you get excited talking about safety? And if not, why not?
Everyone we spoke with yesterday at The Safety Expo 2023 at the P&J Live in Aberdeen left feeling positive, enthusiastic and inspired. So, let's continue to make the conversations around organisational safety/culture great and enjoyable.
As the MC said yesterday, in his opening:
Why networking?
You never know who you will speak to. The person next to you, who you might think is totally unrelated, could be exactly the dot you need to connect to get to where you need to be.
And that is exactly what we went into yesterday with the thought of no expectations, but who can we have conversations with that we can inspire and be inspired by?
[Listen at approximately 01:23]
Boy, was it fun to see people in person and meet faces we've spoken to on LinkedIn before and never met. That's a really fun part about yesterday; there are many people we've been talking with via the virtual realm in some shape or form and specifically for us, LinkedIn, and to see some of them in person for the first time is fantastic.
The whole team was on the stand: Karin, Nuala, Catrina, and her husband Willem. It was exciting that Catrina and Willem have been conversing with a co-facilitator, Andrew Burton, who has hosted this podcast with Karin before, and this was the first time they met in person.
We were finally getting to put hand to hand, eye to eye, and say, 'Good to meet you' - or for some poor people, in Nuala's case, 'Come in for a hug'.
Such shared energy and connection, and we were having conversations that matter.
We often speak about this and mention the hashtag #conversationsthatmatter. Yesterday, we felt that in so many ways and were surprised about how fabulous it was spending the day together as a team in that environment because for us [Safety Collaborations], it was our first Expo as an organisation because we started in the COVID era.
Seeing the brand out there were happy moments all day, but also the surprise of the potential clients and conversations where people came to find us. It was mind-blowing to think that people had us on their list. Why shouldn't they? However, that's not the point, especially because we went out there with no expectations.
It would be very technically safety-focused [we thought in our minds], and it turned out to be a holistic, safety-focused Expo, which was brilliant.
We were present, very, very present.
And there were some great speakers, people who are passionate about their products, whether that was safety clothing or some piece of technical equipment or a service like us, or a mattress. What a difference it can make for a good night's sleep, and it was very handy to go and have a little lie-down occasionally.
When you go to something [we do wonder about this], whether you're going to a movie or the theatre or something, we sometimes have these huge expectations about what we're about to walk into, see, or experience. Sometimes, those expectations don't quite meet the outcome.
We had no expectations about going into this and thought,
'Okay, well, we're just going to keep this low-key, and we'll see how it goes, test the waters.
It was brilliant and far exceeded our expectations in a highly positive way.
Shout-Out and A Surprise Gift
[Listen at approximately 05:12]
A Big Shout-Out to Jason Moir from XIC - Design | Print | Display.
It was his first time organising this Expo, and his enthusiasm rubbed off on us when we went to look at our banner and the marketing products he put together for us.
Thank you, Jason and well done to you and your team!
Now, to whoever's listening to this podcast - we have a secret page on our website.
If you go to it [listen to the podcast for the URL], you can download our digital brochure and other goodies. Those who were at the Expo and scanned the QR code on our banners and promotional items would have gone to this page.
It's our little surprise gift for you.
There is also a video of Nuala and Karin dressed in pink, so go and check that out, too.
Let us know your thoughts on what things you feel worked well in attracting people to come and have a conversation with us and walk away inspired.
Pink Hard Hats, Bookmarks & Choices
[Listen at approximately 06:53]
Pink Hard Hats! Who knew they could be so much fun?
Everybody that walked past, regardless of gender, there was no discrimination. We even had a male come specifically to have his photo taken with a pink hard hat. So it's a good colour.
A little side note: pink is a safer colour than yellow or red [specifically underwater].
The Joy of a Bookmark!
Catrina, who has not yet been a voice on this podcast, although we are sure she will be soon, is a fabulous "silent not so silent" salesperson and was out there attracting people with our funky embrace-fruitful-collaborations bookmarks.
We were thrilled that people asked whether they could take a couple because, 'I've got a few books that I'm reading at the moment', or, 'I'd like to give one to a friend'.
They were a hit, and we were happy to spread the love.
Our Little Bowl of Choices!
One of our big things is about having conversations that matter; however, sometimes, how do you actually start that conversation?
We fill a bowl with little cards called Choices, which we mix and then ask people to pick a card, almost like the 'would you rather' questions. You then choose between X or Y, and we have the conversations around that.
So, one that had some interesting commentary was:
Would you rather climb Mount Everest? or
Go to the depths of the ocean in a submarine?
And the other one that kept coming up as well:
Would you rather be stranded on a deserted island? or
Be lost in a forest?
Let us know which one you would prefer. Reach out to us on LinkedIn and let us know your answer to those two questions, those two choices in life.
Energising, Positive & Humorous
[Listen at approximately 09:55]
We've already had a couple of phone calls, emails, and many LinkedIn connections.
What we have found incredibly valuable and that links so much with our ethos and our values, and the way we want to put things across is the feedback on our presence and energy that we've had. 
We will share some of the words that people have fed back to us because they link so well with what we want to put out there about having safety conversations that are exciting.
If you're not having those safety conversations, here are some reasons why you may want to have them and why you want to have them with us. 
So, the feedback on our presence was:
energy and vibe
energising
fresh
positive
your positivity was inspiring
supportive
informative
educational
uplifting
humorous
And the last one was such a lovely conversation because the person who said it elaborated,
'It's just so wonderful to take a subject that can be so serious, and you can bring humour and life into it, which means that it will resonate better with people'. 
It takes us back to where one of the other presenters talked about persuasion and how using these tools and storytelling all help persuade and encourage others to have conversations that matter. 
They don't always have to be serious.
They need to connect emotionally, but that brings an entire range of emotions into the fall. So, we'll have to do a podcast on persuasion and storytelling and help explain what we mean by that. 
We shall be in Amsterdam, exhibiting at The IADC HSE and Sustainability Europe 2023.
If you need to know what IADC stands for, it's the International Association for Drilling Contractors, which has been around for a long time.
So we're delighted to be members and to be exhibiting next week, and we look forward to bringing positivity and enthusiasm to Amsterdam.
This wasn't meant to be a particularly long episode; our thought was to give you a little update on some fun we've been having over the last couple of weeks.
This includes Nuala being in Mozambique at another networking event two weeks ago with the amazing Nilza - who is an awesome powerhouse.
We want to thank every person we connected with yesterday and the teams that made this happen, both Jason's team and P&J Live.
It was a fabulous event, and we look forward to seeing you again next year.
Our purpose in sharing this podcast is to have a chinwag (conversation) to help people change how they think and behave about safety. 
We do this by engaging in dialogue and testing the levels of trust and psychological safety, which are core to organisational culture. Making safety part of your DNA so that your people speak up, show up, do right, and become safer every day for yourself, your team, and your business.
We will explore topics related to organisational and safety culture, leadership, the language of risk, emotional literacy, psychological safety, conversational agility, intercultural intelligence, and whatever else pops up during our conversations—sharing our experiences and learnings. 
We intend to share nuggets of wisdom that will challenge your perspectives, potentially solve a nagging problem, share actions you can implement, and give you at least one aha moment.
And, if you enjoyed the show and gained value, please share with just one other person to help spread the word.