New Year 2023, Safety Collaborators: Elevating Workplace Safety Through our Collaboration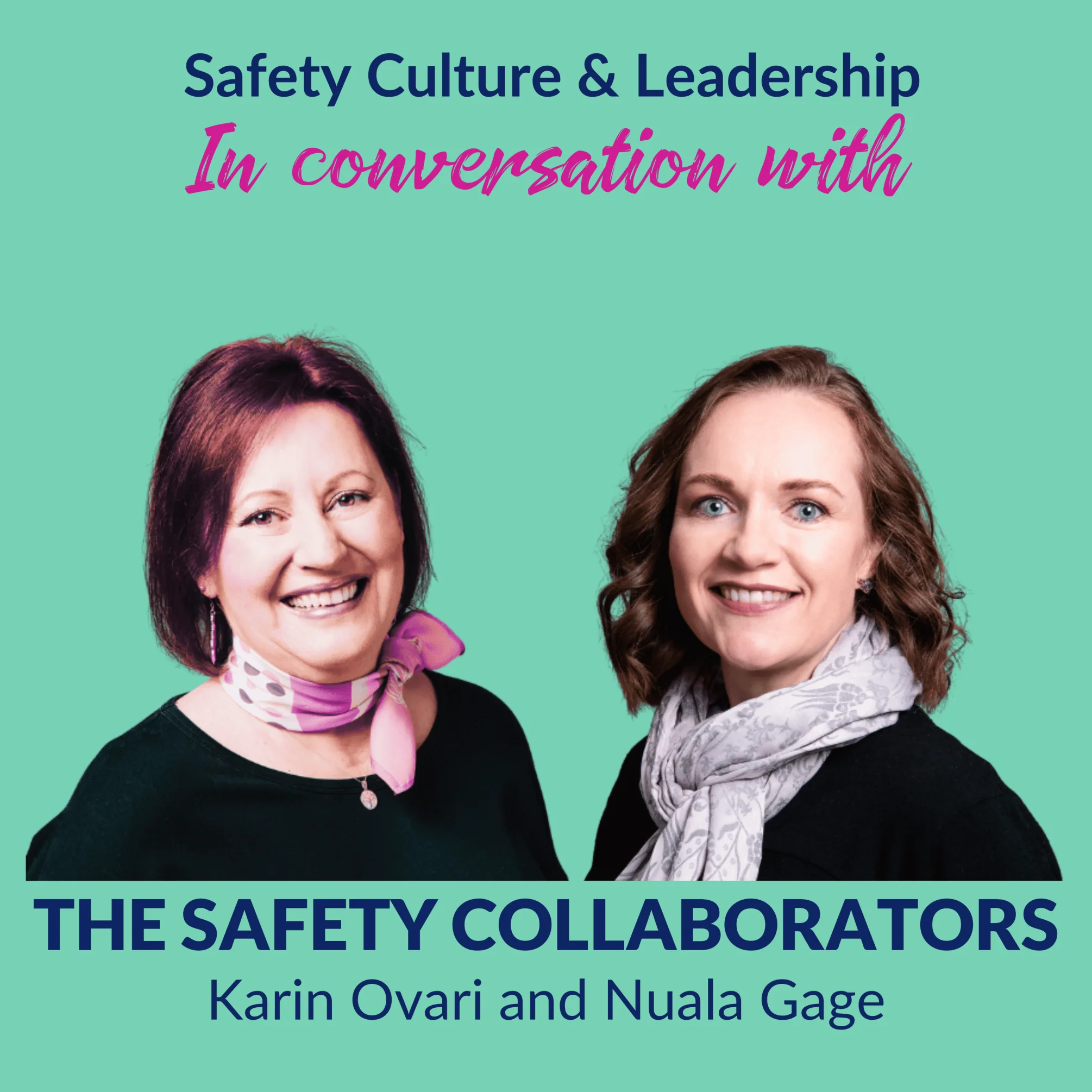 Welcome to 2023! And The Safety Collaborators podcast.
You may have noticed we've had a little break. 
Today's episode aims to update you on what we're up to, the year ahead for this podcast, and updates to how we help you think differently about safety. 
So what will make 2023 Shine? 
There is much going on in the world that is uncomfortable and concerning. So we will share a few things that we can do to make it a little bit better and remove the focus from what's not working. 
Start with what's within your circle of influence. You can get all angst and upset about what we see in the news. But that doesn't help. What will help is how you can influence the world you're in and have control over it. 
Towards the end of the year, everybody gets a bit exhausted and slightly tired. And that's where we said, okay, let's take a breather from the podcast as we need to recharge our batteries and our emotional bank account to give you, our listener, the best value we can do. 
And that brings us to what's going to happen with this podcast. Starting a podcast, it's quite a journey. And as much as you can spend a lot of time learning, being part of podcast communities and all that stuff and think you've got it? We discovered that you don't really know until you do the work.  
Much the same when wanting to change the way you think about safety, safety culture and leadership. You need to do the work to see the change. 
We are back in the podcast seat and excited to bring you new episodes. And we're looking forward to having you on this journey with us. 
So what did we learn?
We need to schedule with clarity. Not be ad hoc. 

We will move the podcast schedule day from Monday to Wednesday.

We had our unique podcast music created. 

We are simplifying and sticking to our conversational style.
Let us know what you think. 
What can you anticipate from The Safety Collaborators podcast this year? 
Ongoing conversations about what is happening in safety culture this year,

More focus on the principles of human behaviour and how that influences safety. 

We are introducing 'Voices from the Field' episodes - guests, workers, clients, co-facilitators, and coaches we work with to share their thoughts and lessons with you. 
If you would like to be a voice from the field guest, send an email to [email protected]
Listen out for them; they will be insightful and willing to share their gifts. 
Where do we feel the focus of safety culture is moving to in 2023? 
There are many great thinkers in the Safety Culture space, such as Clive Lloyd's work on moving safety from Compliance to Care. Dr Timothy Clark's work on Psychological Safety (we are certified practitioners in his tools and frameworks), and Todd Conklin's work, the 5 Principles of Human Performance.
We [Safety Collaborations] are using it as a framework for a new Global Safety Leadership project about to kick off. 
We still talk about the safety ladder and other traditional elements of safety culture, but we talk about it differently. It is much more humanistic and focused on how we move people a little bit, one rung at a time, and it's not just about everybody having to comply. And it's not about Behaviour Based Safety anymore either. 
The conversation is much more engaging, appreciating that we're human beings and learning teams. The focus is moving from blame to care. And these are the conversations we want to have with you.
What can you expect from Safety Collaborations this year? 
We will launch an Open/Public Safety Leadership Programme, which people can attend from their desktop - we call this in-person-virtual. These are live cohort-based learning programmes—no more than 20 participants per cohort. 
These Open/Public cohort-based programmes will suit smaller organisations that want to improve their safety culture and leadership without the burden of sending many people at once, impacting operations or having expensive on-site facilitators. 
Of course, we continue to run our bespoke programmes.
We have a lot of experience in delivering Global Safety Leadership programmes. Check out our case study here.
The benefit of in-person-virtual delivery is that what was once a two-day workshop (for example) can now become a 4-month immersion allowing for longer and deeper conversations. 
The benefits of virtual cohort-based learning are that people can learn from others beyond their organisations, peer-to-peer learning, and they benefit from our online community. 
The community brings a global conversation beyond the lens of an individual's organisation's view of safety and hearing what is happening in other organisations. 
Of course, there is less travel which is better for the environment and the bottom line. 
Are you interested in being an early adopter? 
Email [email protected]
We shall continue our global work with on-site safety coaching and virtual delivery. This combination provides a dynamic and different approach to Global Safety Leadership programmes. They are more sustainable and allow ongoing conversations beyond the 'classroom'. 
If in-person-virtual cohort-based learning is not for you and you would like some on-site expert observation safety coaching, then visit our page Safety Coaching & Training, which explains that service in more detail. 
What does on-site Safety Coaching and Training look like? 
Here is a snippet from the podcast - Nuala is setting the scene.
"You know, it's really around having conversations with people figuring out their way of working together and their solutions but also holding the individuals and teams accountable for the conversations they've had, what they've agreed to, or what's happening out there. 

So it's that being in the moment in the observation of having a look at what is happening on site, how are people having conversations? 

How are people doing what they promised that they were going to do? How they're adapting when new team members come in? So you think about the stages of team development. And in many places where we work, teams are constantly changing. So we're continually going into that forming, storming, norming process. 

And having a safety coach on-site can often help people navigate and understand well; it worked amazingly on my last hitch. Why are we just not working together? Well, on this hitch, what's changed? How is the dynamic different? And instead of getting frustrated about it, it's around observing it and going, Hey, team, let's have a cup of tea.

What's happening here?

What are you seeing?

What are you observing?

How are you communicating?

And having conversations that lead to a healthy team to a healthy way of working and not that frustration of but I've told them three times, well, did you not just tell them, but did you have a conversation to confirm understanding? And especially where we work in such a diverse culture and language."


In December, there were 27 different cultures on board. So people are not trying to be difficult; they are just different, and we create a safe space for people to have those conversations. 
Listen to the podcast for the whole story. 
Related podcast A day in the life of a Safety Coach
In addition, we run many mini/micro-learning sessions on-site around communication, observing and how people work together. They are fun and highly interactive. 
The key message is often helping people to figure out how to trigger the right response versus sending the right message. 
Final thoughts and over to you!
Welcome back to our podcast episodes. We explore the 5 Principles of Human Performance in the next three episodes. 
Let's enjoy working towards making 2023 shine and keep asking the question - how do I move a little bit today to make my world and the world around me safer and more enjoyable?
What you can do for us... we'd be delighted if you shared this podcast with others.
Related Podcasts:  A day in the life of an offshore Safety Coach
Books:
The 4 Stages of Psychological Safety - defining the path to Inclusion and Innovation by Timothy R. Clark
Next Generation Safety Leadership - from Compliance to Care by Clive Lloyd.
The 5 Principles of Human Performance by Todd Conklin, PhD
Our purpose in sharing this podcast is to have a chinwag (conversation) to help people change how they think and behave about safety. 
We do this by engaging in dialogue and testing the levels of trust and psychological safety, which are core to organisational culture. Making safety part of your DNA so that your people speak up, show up, do right, and become safer every day for yourself, your team, and your business.
We will explore topics related to organisational and safety culture, leadership, the language of risk, emotional literacy, psychological safety, conversational agility, intercultural intelligence, and whatever else pops up during our conversations—sharing our experiences and learnings. 
We intend to share nuggets of wisdom that will challenge your perspectives, potentially solve a nagging problem, share actions you can implement, and give you at least one aha moment.
And, if you enjoyed the show and gained value, please share with just one other person to help spread the word.