Safety Culture Transformation
An improved safety culture that drives your organisation to be safer, more efficient and valuable. A place where managers are leading, teams are performing and safety is in your DNA.
Our Safety Culture Design takes your organisation on a transformative journey.
We meet you where you are at and design what works for you.
We support your leadership, front-line supervisors and teams by developing and implementing sustainable change that supports your safety culture vision.
The In-Person-Virtual digital facilitation platform we use brings online engagements to life, enabling your teams to embrace fruitful collaboration.
This is your journey, and the following phases represent our robust approach to discovery and implementation.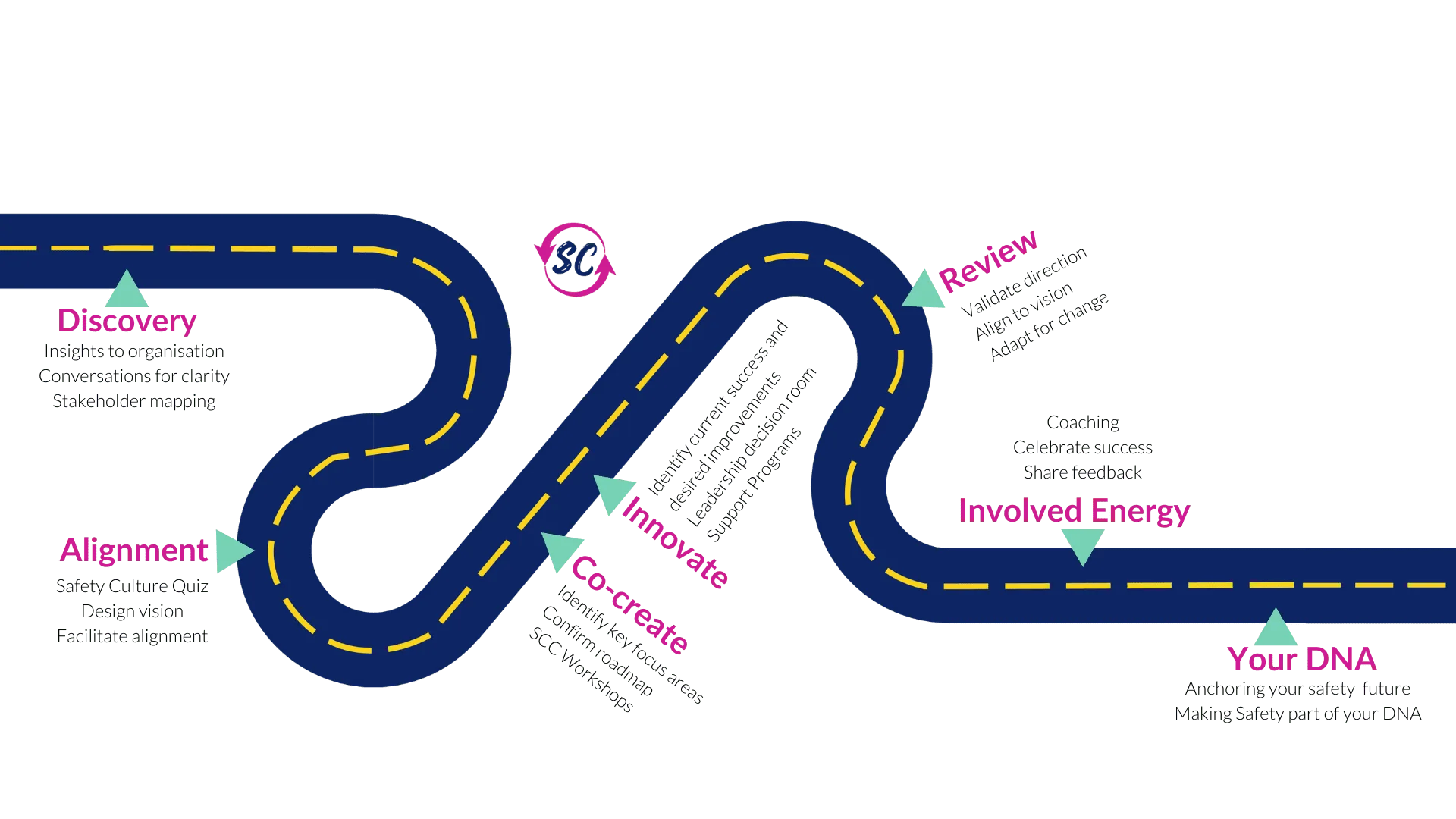 Our programs are delivered over 6, 12, or 18 months, dependent on the number of critical areas of impact you wish to address.
We take a blended approach to delivery. We will use a mix of face-to-face and digital facilitation and collaboration tools to deliver safe, sustainable and cost-effective programmes.
The journey is co-created with you.
Safety Culture Design programme includes:
Delivered through digital facilitation

Leadership vision alignment

Involvement of frontline leaders

Focus on critical areas of impact

Customer-made actions

Group Coaching 

1:1 Coaching

People growth programs
Ready to get started?
Start by taking our (complimentary) Safety Culture Quiz
We pride ourselves on working with customers to close the gap between where their safety culture is now and where they want their culture of safety to be in future. 
The investment in your safety culture is a catalyst for future success. 
It is challenging to define the investment until we have a discovery session to determine your aspirations for the change.
Multiple elements impact the overall investment. 
The size of the organisation 

The number of employees included in the process

Availability of employees to attend workshops

The number of critical areas to address 

Support programs required 

Worksite Coaching
Your time
and more
Why not book a discovery call with us to start the conversation to find out more. 
Let's have a conversation
And discover what your investment may look like.
Not quite ready to talk to us? That is ok!
Take the Safety Culture Quiz and gain some insight. You will receive a short overview of what you can focus on.