Why We Believe in Technology and so Should You
Your heart skips a beat, and not in a good way!
Another Zoom, Team's, or webinar invitation has come through for a "Learning Event", and everyone in your department is encouraged to participate. You know you should attend and click the accept button with a sense of dread for another death-by-online session.
Many don't know that it does not have to be this way!
Technology is an enabler for collaboration, which is why we believe in it, and so should you.
The world has pivoted, and online is the new norm.
We have to change our thinking and way of doing things to make congruent learning spaces that positively impact our people and customers.

Amel Sedaoui - Safety Culture Specialist
It is no longer okay to think that we can effectively share the information we have consistently delivered in a PowerPoint presentation in an online meeting. Our people and customers (internal and external) expect more from us!
So, what do we do? Change our thinking.
Old ways of thinking no longer work. Many people have heard of the PPT Framework.
People - Process - Technology (Tools)
Karin Ovari (Co-Founder and CEO) describes people, process, and technology (PPT) as the methodology in which the balance of people, process, and technology drive action: People perform a specific type of work for an organisation using processes (and often, technology) to streamline and improve these processes.
The problem is that we are still using the same processes in a new technological world that requires greater collaboration using the available technology.
Stop and Question
How could we better serve our people?
Has technology improved to support these needs?
Can we enhance our current processes and ways of doing business to match these new technologies?
The answer is a solid YES.
In this new world of work, we need to shift the paradigm to consider PTP.
People - Technology (Tools) - Process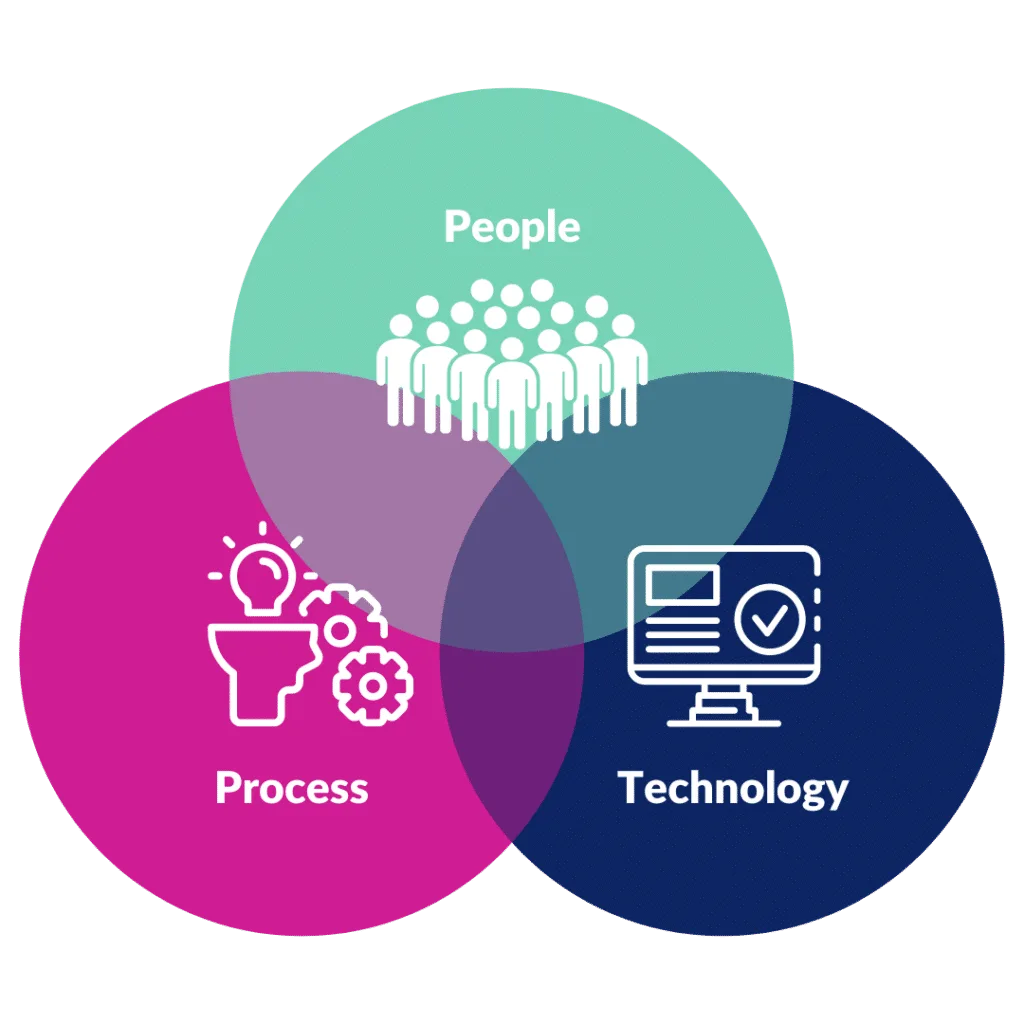 When I attended my first in-person-virtual digital workshop, I fell in love with the endless possibilities opening up in front of me like a rosebud spreading its petals.
What excited me?
Karin and the team had taken the time to plan what was needed by the target audience. Then the team carefully considered the best technology to support that message. Finally, the team developed processes to deliver messages using the chosen technology.
Some of my lessons from that experience included:
The opportunity for before, during and after sessions weave a golden thread throughout the intervention.
The extent of the camaraderie and collaboration, open discussion, group cohesion, self-paced learning, and co-creation amongst all attendees is enthralling.
Everyone captured their thoughts, and no one was left behind.
Everyone can see what is going on and what is said.
The extroverts and introverts are all seen and heard.
No information was lost or kept in people's heads.
The built-in AI brought remarkable efficiency to the session. From multiple responses to immediately available digital feedback.
You have an immediate review of themes, word clouds and conversation summaries.
All information is captured in the workspace and available beyond the event.
The combination of video conferencing levels the playing field - we are in the same frame and size, from the CEO to the operator.
The increase in inclusion is tangible.
Allows organisations to collaborate and get immediate feedback from everyone!
I was hooked and could not wait to learn more about the Howspace platform. We have integrated Howspace into our world of digital collaboration, and our clients love it as much as we do.
What is the catch?
As with all collaborative opportunities, the effectiveness of the design, development and facilitation will make or break the intervention. Excellent technology alone will not elevate digital collaboration with your people and customers.
How can we help?
We specialise in digital and virtual delivery, providing sustainable solutions for your business. Through consulting, facilitation, training, coaching and speaking, we support your digital collaboration and learning interventions and deliver large-scale organisational safety culture change programs.
Are these solutions suitable for everyone? Possibly not. You won't know if they are right for you and your business until you have explored the possibilities.
Suppose you would like your people's hearts to skip a beat in a good way when they get that following invitation, then book an exploratory conversation with us now to start your digital collaboration journey.
Check out the benefits of digital facilitation here.